DMW Corporate History
September 1910, Dengyosha Manufacturing Department was founded in Tokyo-Japan, as a manufacturer of water turbines. Later, name was changed to Dengyosha Prime Mover Works
June 1955, the company divided its business into two categories, with the Department of Water Turbines taken over by Tokyo Shibaura Electric Co., Ltd. (currently Toshiba Corporation) and the Department of Industrial Machinery producing pumps, fans and diesel engines taken over by Dengyosha Machine Works (currently DMW).
October 1961, DMW listed its shares on the Tokyo Stock Exchange.
In 1965, DMW started the manufacture and supply of API610 process pumps for the Oil & Gas industry globally This was started in a Joint Venture with Union Pump Co. USA. The JV was called UNION PUMP JAPAN. Subsequently, this JV was closed and absorbed into DMW in the year 2000.
July 1987, the English name of the Parent Company name was changed to DMW Corporation from the former Dengyosha Kikai Seisakusho.
In November 2014, DMW Corporation established 1st Overseas Subsidiary company DMW India Private to expand its business in the price competitive markets of South-East Asia, India, Middle east and further up- to Africa.
In May 2016, DMW India Pvt Ltd. started the construction of its Pump Manufacturing Plant at MIDC Chakan Phase II, near Pune, under the "Make in India" initiative of the Govt. of India. The manufacturing plant was commissioned in 2017 and commercial production was started from Oct 2017.
In August 2017, the name of the Indian Subsidiary was changed to DMW CORPORATION India Pvt. Ltd.
In April 2022, DMW Corp India increased its share capital is over Rs.55 crore and started work on addition of new pump testing facility for multistage pumps up-to rating of 3500kW.
Factory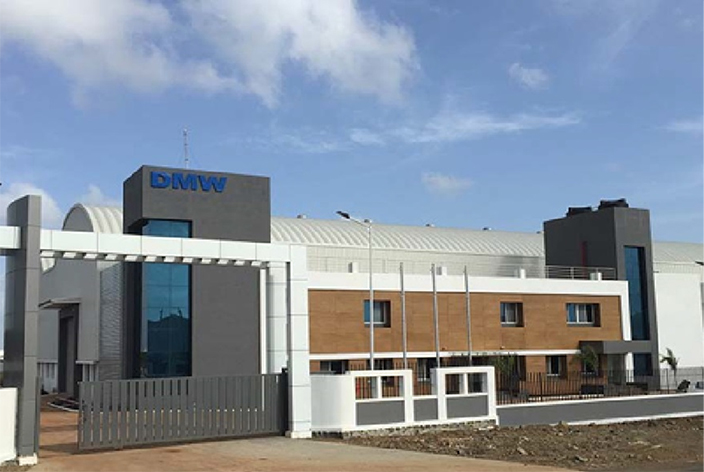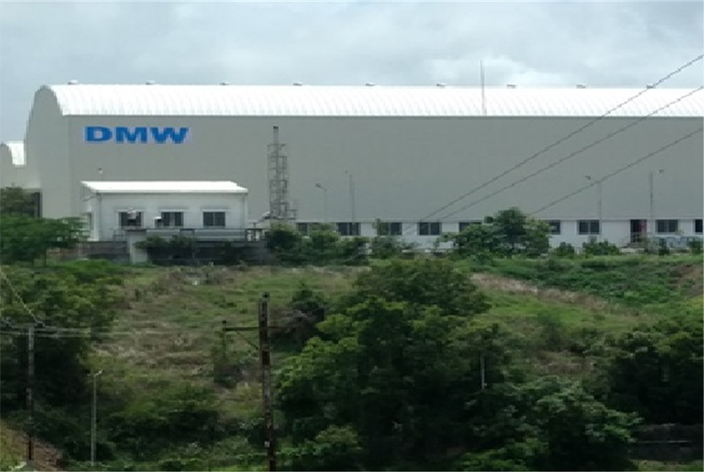 General Information
1-1 Date of Establishment / Start of Commercial Production:

NOVEMBER 2014 / OCTOBER 2017

1-2 CAPITAL

Rs.600.0 MILLION (Authorized Capital)
Rs.552.5 MILLION (Paid Up)

1-3 SHARE HOLDERS

a) DMW CORPORATION, Japan(99.99%)
b) DENGYOSHA KOUJI (DKK) (0.01%)

1-4 Number of Employees: Total 40 (as on April 2022)
Company
ISO 9001:2015
Certified
MSME Company
EIL Approved
(OH2/BB1/BB2/BB3)
(VS1/VS2/VS6/VS7)
ONGC Approved
Listed in Approved
Vendors of all Major
Indian Refineries
Recognized at all
Major EPC LSTK PMC
Companies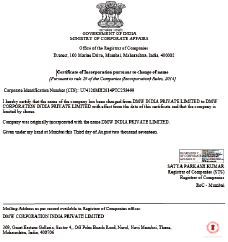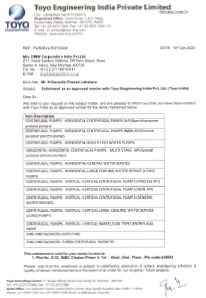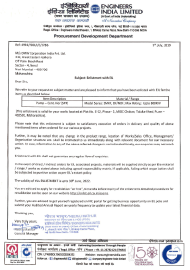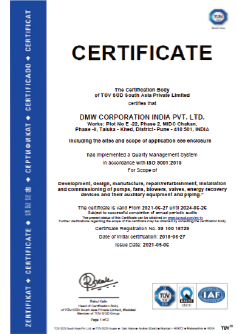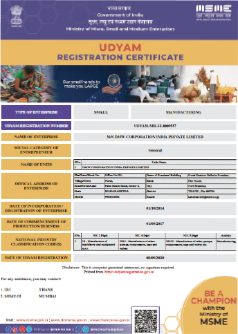 Management
Mr. Taizo Kobayashi – Managing Director
Mr. Hirokazu Takahata – Director (Finance)
Mr. Harish Kavedia – Director (Sales & Engg.)
Mr. Ashok Yadav – Factory Head (GM)
Product Range
Manufacturers of API 610 Pumps
OH2 - Model SMKP
BB1/BB2 – Model DF-S / DF-RP
BB3/BB5 – Model DMF / BMF / BMT
VS1/VS2/VS6/VS7 – Model VMF/VMT
Test Facility – Horizontal / Vertical pumps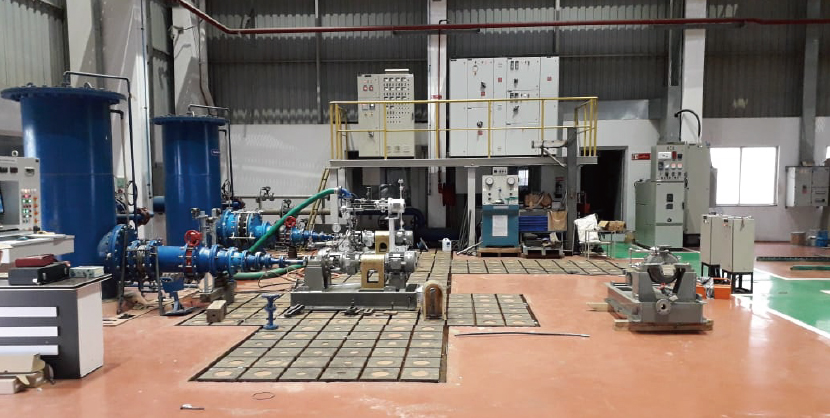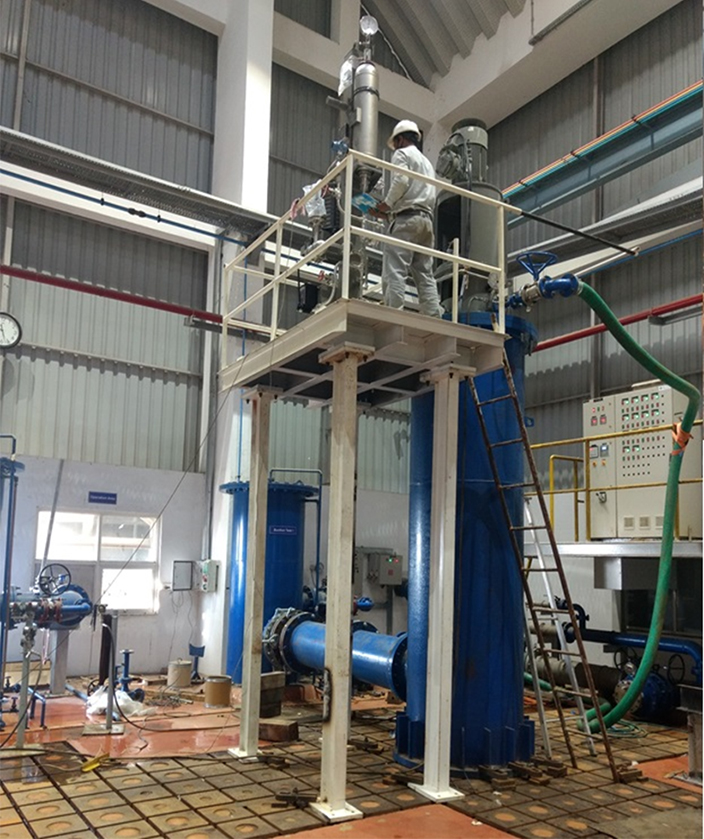 Test Facility – Multi-stage Pumps
Customers
OWNERS End-Users

BPCL
GAIL
HPCL
HMEL
HRRL
IOCL
KOC
KENGEN
ONGC
EPC LSTK

AFCONS
ANCHOR
BGR
CARLTON
L&T (LTEH)
MHPS INDIA
TATA PROJECTS
TECHNIP
TKIS (UHDE)
TOYO India
OEM Manufacturers

Bush Vacuum
Edwards (Atlas Copco)
GD NASH (IRCO)
Products Delivered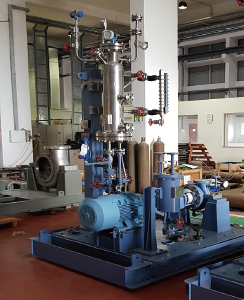 Type OH2, Double seal Pump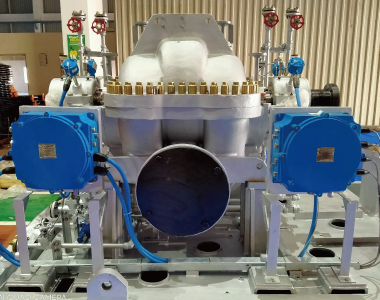 Type BB1 (DF)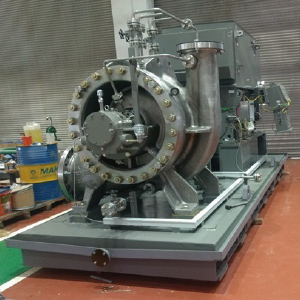 Type BB2, SDSS MOC Pump (Offshore)
Type BB3, SDSS MOC, 820kW Pump (Offshore)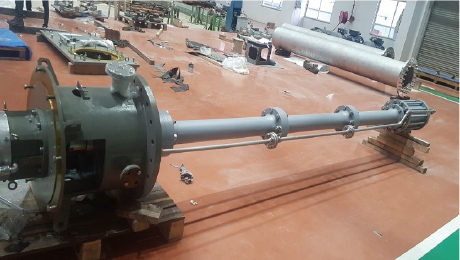 Type VS1(VMF)